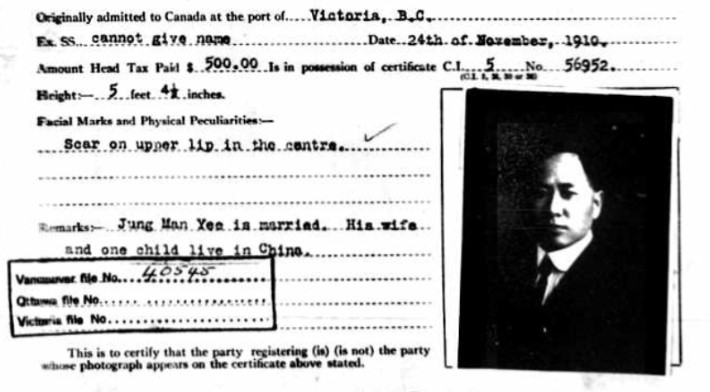 The Chinese Immigration Act of 1923, commonly known as the Chinese Exclusion Act, restricted immigration of Chinese people and required existing Canadian people of Chinese origin to register with the Government of Canada. The act was in force between 1924 and 1947. The registration forms completed in 1924 are now available for researchers to view through the Ancestry and FamilySearch websites.
Sixty-one people from Hastings County filled in these forms at their local post office. All but four of them were men: a reflection of the impact of the $500 head tax formerly paid by Chinese immigrants. Because of this tax (the equivalent of paying $8,700 in 2023), men would leave their wives and children in China and send money home, hoping to bring their families over later. The Chinese Exclusion Act prevented this from happening.
Because of the costly head tax, by 1923, Canada's Chinese communities were largely "bachelor societies," where men outnumbered women by a ratio of almost twenty‐eight to one.1
Many of the forms completed by members of this community in Hastings County mention the existence of wives and children in China. Nearly all of the individuals were from the area around the city of Jiangmen in Guangdon Province. One of the men, Fung Jung of Trenton, stated that he intended to return to China in the next week, but it seems that the remainder were planning to stay in Canada.
Of the 61 people who registered in Hastings, 39 lived in Belleville, 15 in Trenton, four in Tweed and one in Madoc. Twenty-eight worked in or owned restaurants while 19 worked in laundries. The Belleville residents gave their full addresses and we have created a Google map to show where they lived and what they did for a living. Follow the link on the map to find their names, ages, and occupations. All the Belleville Chinese residents in 1924 lived on either Bridge Street or Front Street in the downtown core.
The Chinese Exclusion Act was repealed in 1947 and the racial discrimination in the immigration system was removed in 1967. An apology for the head tax policy was issued by the Canadian Government in 2006 and symbolic payments of $20,000 were made to 220 individuals or spouses of individuals who had paid the tax.