by Olivia White (Summer Student)
Records of the Quinte Arts Council (QAC) were donated to CABHC in July 2021, detailing the origins of the organization in 1967 to its activities in the present. The records are diverse: there are administrative files, publications, information about local artists and their work, newspaper clippings, planning materials for events, photographs, and audiovisual records.
The QAC was created as a result of the successful "Arts Fest" event in 1967, which led to an interest for an arts council that served the Quinte area.
2021-047/7/8/1 Belleville Art Association artists Florence Lennox (left) and Madeline Rollins (right), c. 1970
The QAC was officially created on September 25, 1967, and is dedicated to supporting artists and arts organizations in the Quinte region.
A large portion of the collection contains records relating to events organized by the QAC. One long-running event was the Festival of Trees, which served as a fundraising initiative during the holiday season, while Two Weeks in May featured numerous showcases of visual arts, music, dance, writing and theatre in the area.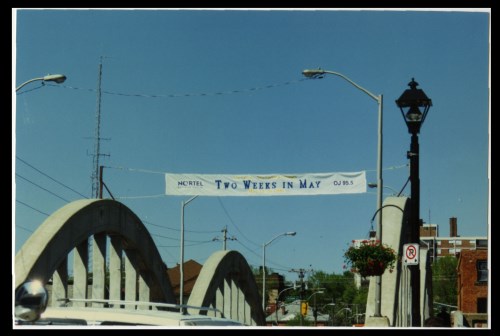 The audiovisual materials in the collection, specifically the CDs and floppy disks, offered a preservation challenge. A floppy disk reader was purchased to read the files on the disks. The digital files were then appraised for their research value, and selected files from the disks and CDs were transferred onto the Archives' servers for storage. PDF copies were created from Microsoft Word documents. Transferring the files from physical media into digital storage helps to ensure their long-term preservation.
You can find out more about these records at https://discover.cabhc.ca/quinte-arts-council-records.