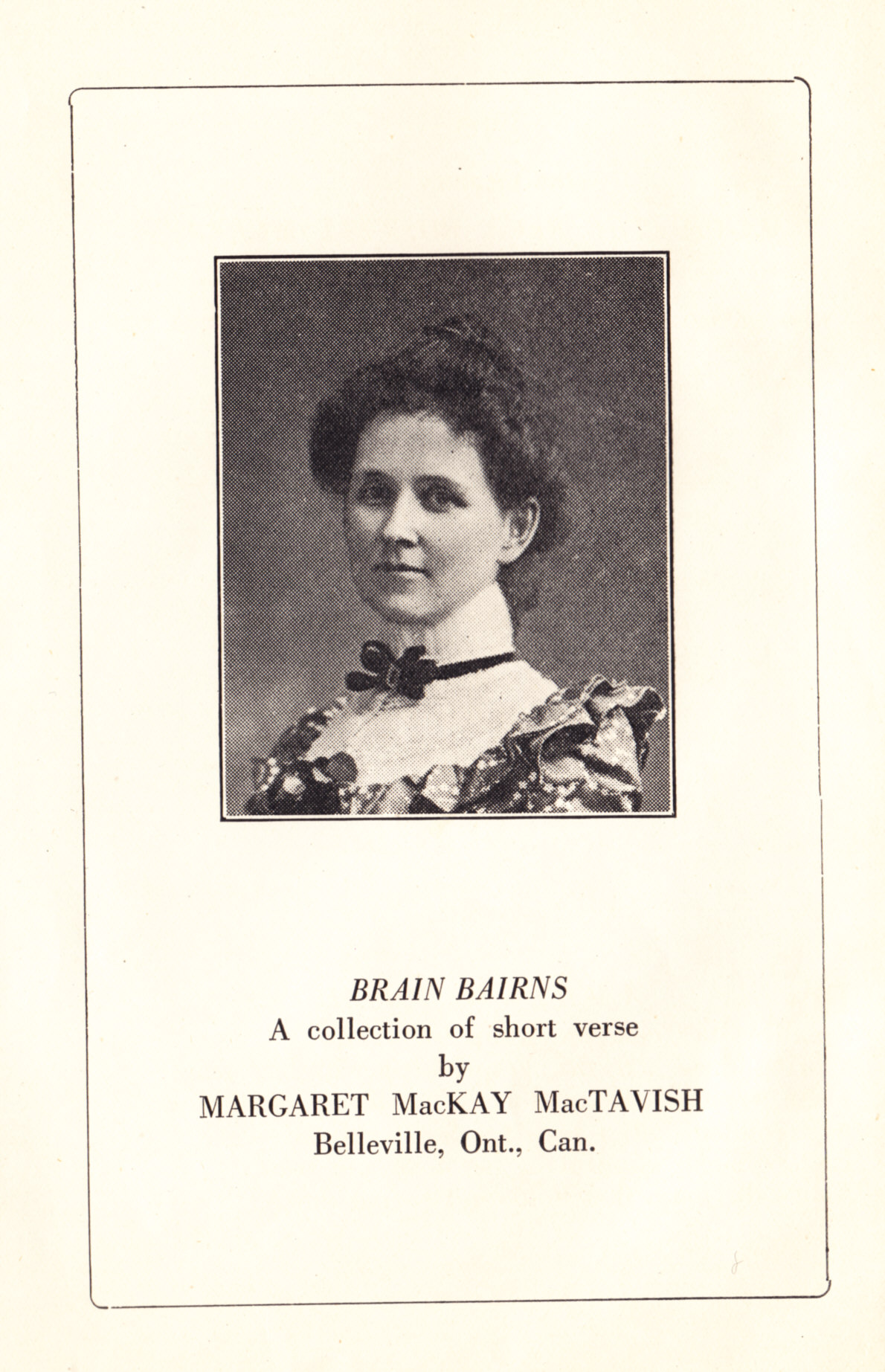 A recent transfer of archival materials from Glanmore National Historic Site included Brain Bairns, a small book of poems written by Margaret MacKay MacTavish. In 1922 Margaret retired to 120 Moira Street West in Belleville with her husband, William Sharpe MacTavish, who had been a minister in the Presbyterian Church in St. George, Deseronto, Kingston, and Madoc.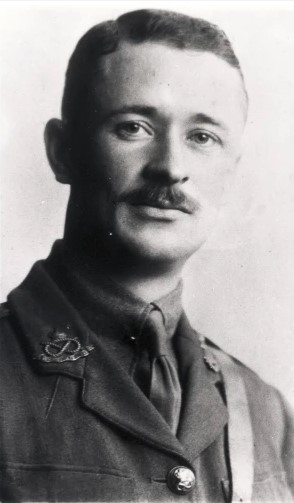 Margaret died on August 23, 1928 at the age of 62 and this book of poems was published by her husband in her memory, and was also dedicated to the memory of their eldest son, Roswell Murray MacTavish. Roswell (known as Ross) was studying in England at the outbreak of First World War and joined the British army. By the end of the war, he held the rank of major. He died in the Spanish Flu pandemic on February 4, 1919 and was buried at Saint-Omer, France.
Several of Margaret's poems mention her son, including one called "To R.M.M." which was written in two parts: one in 1915 and the second in 1919 after she had learned of his death:
1915

Son of my heart, where art thou?
Ah, the wild wind wails without!
Does it storm o'er thy trench in Flanders,
O'er thy dark, shell-swept dugout?

Son of my heart, where art thou?
Dost thou lie perchance on the field
Where the battle raged in fury,
And men died, but would not yield?

Son of my heart, I see thee
A babe in my cradling arms:
Ah, close to my breast I pressed thee,
To shelter from life's alarms!

Son of my heart, I gave thee,
The gift to the Giver, then.
He took the dear gift, and called theeTo tell of His love for men.

Son of my heart, thou'rt showing
That love in thy life to-day,
As thou givest thy life that others
To freedom may find the way.

Ah, son, dear son! God guard thee
Through battle, fire and dearth,
To proclaim again to weary men
The Gospel of "Peace on Earth".

1919

Son of my heart, where art thou?
Ah! the wind is wailing where
Thy weary body resteth
'Neath the sod of St. Omer.

Son of my heart, they brought me
Thy khaki tunic. There
Next thy heart my poor lines nestled
When you passed at St. Omer.

Had they a message, dear one,
To tell of my love and prayer?
Were they a little comfort
When you passed at St. Omer?

Ah son, dear son, God's purpose
Is best, and we know somewhere
He is keeping the lad whose body
Lies sleeping at St. Omer.
Perhaps there is some poetic licence here, but it is touching to think of Margaret's son keeping her poems with him throughout the war. And touching to think of the comfort this gave her, after his death. The book of poems itself must have given some comfort to the surviving members of the MacTavish family after Margaret's own passing.