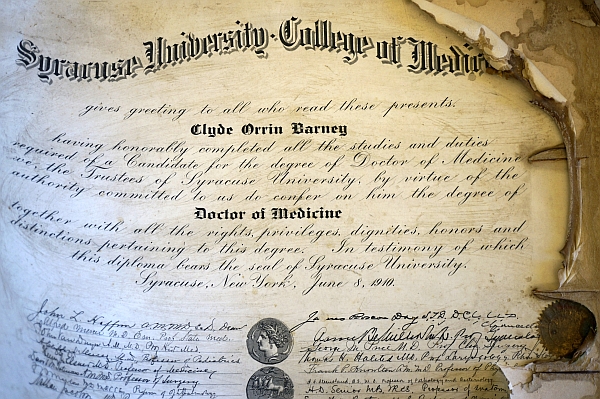 Sometimes materials find their way to the archives, but don't really belong there. One important role of the network of archivists around the world is to communicate with each other about such items and try to establish where the 'right place' is for something.
This week, we received a medical diploma which was issued in Syracuse, New York, in 1910. It had been picked up at a yard sale in Syracuse by a Belleville doctor, J. Russell Scott, for the princely sum of one dollar. Russell Scott was active in local causes and local politics: here he is on August 18th, 1971, presiding over the official opening of the Quinte Mall as Mayor of Belleville. He was Mayor from 1968 to 1972.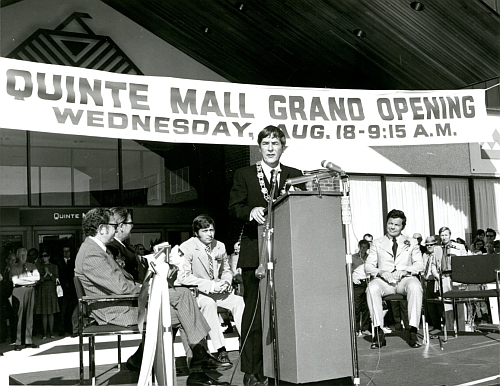 Scott placed the diploma in the archives of the Belleville General Hospital, but its original owner, Clyde Orrin Barney, had no connection with the hospital and so it was passed on to us. Our collecting policy is focused on people and places of Belleville and Hastings County, so this was not really something that we would be able to offer a home.
Along with the diploma was a typed obituary for Barney, who lived from 1882 to 1966. The obituary was from the Syracuse Herald-Journal and it explains that Barney was on the staff of the medical school at Syracuse University for much of his life.
In 1950 Syracuse University sold its medical school to SUNY Upstate Medical Center. The archivist of Syracuse University put us in touch with this institution (now called SUNY Upstate Medical University), and staff there were happy to offer a home to Dr. Clyde O. Barney's diploma. After some careful wrapping and a trip to the Post Office, the diploma is now on its way to its rightful home: a satisfying result of archival cooperation.