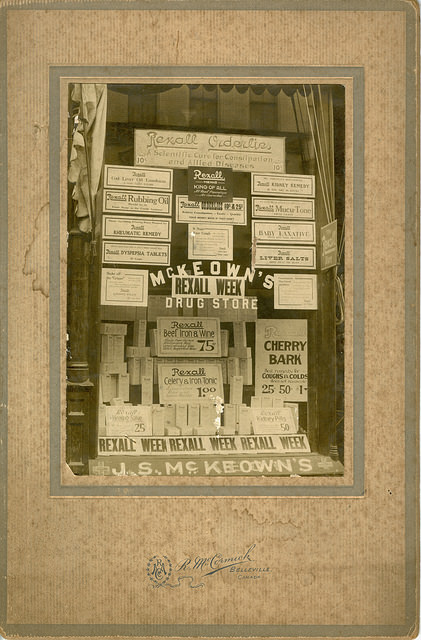 A new addition to the Archives' collections this month is this photograph, found by members of the Woodley family in the basement of the former McKeown's Drugstore at 271 Front Street, Belleville. It was donated by Betty Lavallee.
The display was promoting products as part of 'Rexall Week'. On show were a range of Rexall products, including: Liver Salts, Rubbing Oil, Baby Laxative, Rexall Orderlies, Celery & Iron Tonic, Beef Iron & Wine (made from the best predigested beef, concentrated iron and imported wines), Cherry Bark cough remedy, and Dyspepsia Tablets. The photo was taken by Belleville photographer Robert McCormick in around 1920.
McKeown's store was at this location from around 1915 to the 1960s. John Spottiswood McKeown was born in Belleville in 1871. He was the son of John McKeown senior (a boot and shoe merchant) and Mary Bullen. He married Caroline (Carrie) Lingham on October 5th, 1898 and they had one daughter, Helen, born in 1901. In 1921 the family were living at 16 Alexander Street, Belleville, with a maid called Florence Parks.