If you are missing interacting with archival materials while the COVID-19 restrictions are in place, a new project from the Community Archives might be of interest to you. We have scanned the
1871 Hastings County assessment roll
and would like your help in making the names in it available to the public.
Each municipality in the county of Hastings sent a copy of its assessment roll to the county authorities. The rolls list each occupier of lands, with details of the property, its value, and additional information such as the occupation of the individual, how many people were in their household and even how many sheep, horses and cattle they owned.
Transcribing the information in these records gives us a picture of the way Hastings County had been settled by 1871, and expands on the information available to us from the national census which was taken in the same year.
How does it work?
The images for each municipality have been saved as individual PDF files. Some are easier to read than others (they were all compiled by different municipal clerks). As an example, above is the first page of the assessment for Carlow/Mayo Township, whose clerk had a clear hand and which only has three pages of information to copy out.
Each page in the township's assessment has its own tab in the spreadsheet, circled here in red.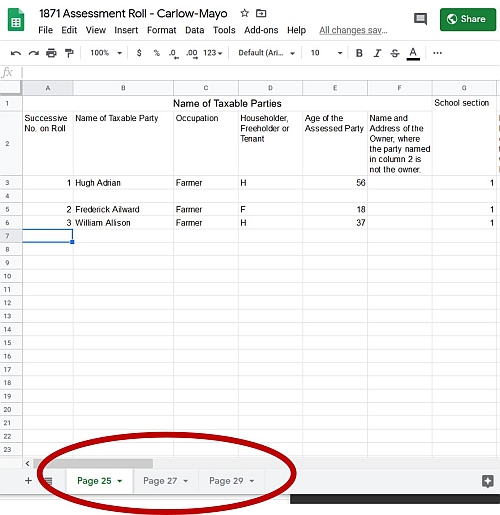 If you would like to take part in this project, please edit the data entry forms online (links to the all the PDFs and the online forms are in the table below). If you would rather not work online, there is also an
Excel spreadsheet to download
, which you can complete (one form for each page) and email to the archives.
Contact the archives
if you have any questions.
Note on names: some of the townships have names listed in reverse order (Abbott, Jane for example). In those cases, please write out the names in natural order (Jane Abbott) in the spreadsheet, so that they will be easier for people to find.
Help with names: the 1869-1870 Directory for the County of Hastings is available online from the Internet Archive. This has an alphabetical listing of names of individuals for each township, which is useful for checking the spelling of names that might be hard to read in the assessment roll.
| Municipality | Assessment roll | Data entry form | Status |
| --- | --- | --- | --- |
| Bangor, Herschel, McClure, Monteagle and Wicklow [10 pages] | | | Complete! |
| Carlow and Mayo [3 pages] | | | Complete! |
| Elzevir [18 pages] | | | In progress |
| Hungerford [39 pages] | | | In progress |
| Huntingdon [19 pages] | | | In progress |
| Madoc [27 pages] | | | In progress |
| Marmora and Lake [23 pages] | | | In progress |
| Rawdon [27 pages] | | | In progress |
| Sidney [43 pages] | | | In progress |
| Stirling [8 pages] | | | In progress |
| Thurlow [48 pages] | | | In progress |
| Trenton [21 pages] | | | In progress |
| Tudor, Wollaston, Limerick and Cashel [10 pages] | | | In progress |
| Tyendinaga [52 pages] | | | In progress |