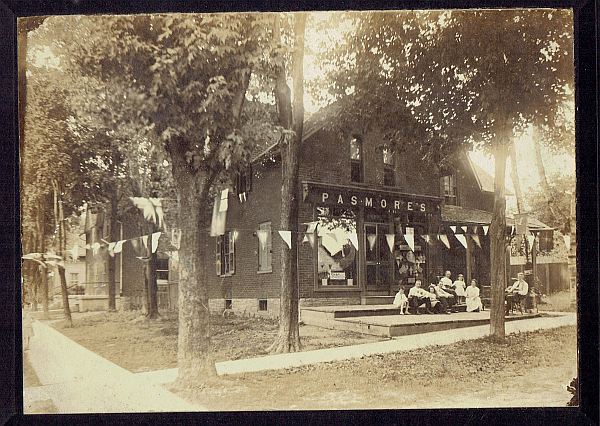 William Julius Pasmore (1841-1915) lived and worked in Deseronto in the early 1900s. He was a physician, who ran a pharmacy with his wife, Laura (born Laura Hendry in 1852). The family had previously lived at 995 Queen Street in Toronto, where Laura was listed as a druggist in late 1890s directories.
The couple had four children: Laura, Annie, Robert, and Clarence. Two of these followed their parents into healthcare professions: Annie became a nurse, while her younger brother Robert became a pharmacist.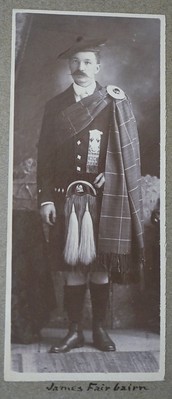 The photograph here was recently donated to the archives (as a digital copy of the original). It shows William and Laura Pasmore outside their Deseronto pharmacy in later life, with their son, Robert, his wife Catherine, and their three young children. It was taken in 1913 by Deseronto photographer James Fairbairn (1866-1949) and shows the building decorated with pennants and flags. William died in Pape Avenue, Toronto, two years after this photograph was taken. Laura died in 1928. The couple were buried in Rockwood Cemetery in Wellington County, in the Hendry family plot.
The other young man in the image is probably Clarence Pasmore. Clarence served in the First World War as a lieutenant in the Canadian Expeditionary Force. He survived the war and the Spanish flu to marry Estelle Gordon in Deseronto in 1921. They then joined the rest of the Pasmore family in Toronto.
The Pasmore's property still stands in Deseronto, on the northwest corner of St. George and Thomas Streets. It is now a private home.