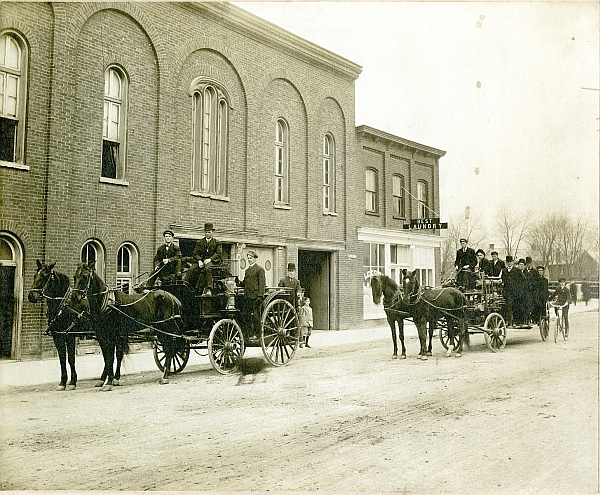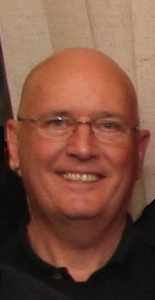 In 2015 the Community Archives lost one of its regular volunteers, Al Cleary. 2016 would have marked Al's fifth year of volunteering in the Archives, and in memory of him we are sharing this story, which Al researched, wrote, and presented in 2012 as a 'Story from the Archives' for the Hastings County Historical Society.
When Belleville was incorporated as a police village in 1836, the Fire Regulations stated that all citizens from 15 to 60 were to help pull the fire equipment if so directed by any town official. Later years brought bigger and heavier equipment that was drawn to the fire by horses.
By the turn of the century the firemen were still volunteers, the horses were under contract to the City, and only the drivers or teamsters were paid. These were sometimes young boys and paid accordingly.
Jan. 1, 1916 saw the fire department made into full time permanent paid positions, with professional teamsters. Stanley Pomeroy, at 18 years of age, was hired in 1920 as a teamster because he was considered an expert with horses.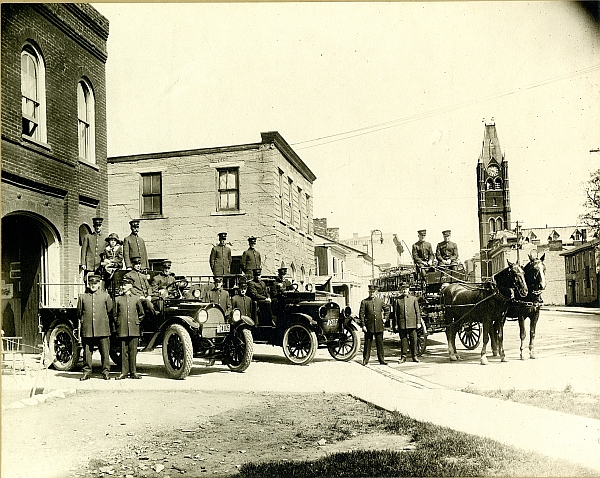 In 1921 the City of Belleville bought two new motorized fire trucks to replace the two horse drawn hose wagons, and the horses that drew them were retired. Stan Pomeroy's main job had been to look after the horses, so he stayed at No. 2 Fire Hall to work with the remaining team that pulled the hook and ladder wagon.
Stan had special feelings for Harry, his favourite horse. Harry was a real character with a special personality, somewhat like Stan himself. If he could get down by the river after being washed, groomed and curry combed, he was very likely to get down and roll in the mud, almost on purpose. When it was time to bring him back to his stall at the fire hall, he would get all upset if he wasn't treated to a chocolate bar or a plug of chewing tobacco. In 1926, the city bought a motorized International hook and ladder truck. Harry and his partner in the team had pulled the old ladder wagon for 22 years.
When Harry's partner died at the fire hall, the City decided to sell old Harry to a market gardener, but the firemen refused to allow their faithful old horse to spend his last days being worked to death pulling a plow. They agreed to keep him in a stall at the fire hall, and exercise him in the yard behind.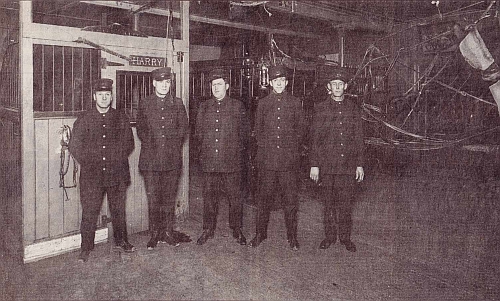 Later Harry was pastured in Bleecker's Woods north of the city for his well-deserved retirement, but within a few months of leaving the Fire Hall, the old horse died at the age of 23. Stan Pomeroy claimed he died of a broken heart. The Fire Department turned out as a guard of honour for old Harry at his funeral, the last of the Belleville Fire Department's horses.